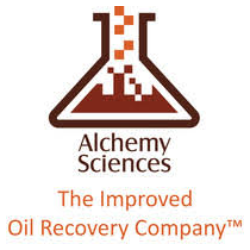 Alchemy Sciences Inc.
Alchemy Sciences exists to design, develop, evaluate and deploy targeted solutions to improve recoveries and well economics across the full life-cycle of your well. We provide industry leading domain expertise in chemistry, formulation, reservoir engineering and operations. Through an R&D and commercial partnership with the Center of Innovation for Flow Through Porous Media we possess the most advanced capabilities to conduct numerous, concurrent, and dynamic three-phase flow experiments on reservoir rock in existence in the world today. Coupled with our ability to image these experiments from the molecular to macro scale our scientists enjoy unique insights into phase behavior in the reservoir and proppant pack.
Nobody knows more about your business than you. Our purpose is to employ our capabilities cooperatively with your comprehensive knowledge of your individual reservoirs and economic goals to make a meaningful and measurable financial impact on your projects.
Nature of Business
Reservoir Engineering