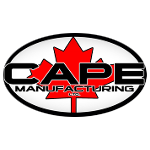 Cape Manufacturing
We specilize in the manufacturing oilfield production equipment and are on our way to becoming a leading provider of oil & gas production equipment in Central Alberta.
Our area of expertise in the industry is pressure vessels and separator packages. With our facility and over 100 years of combined experience building oilfield equipment at the helm of CAPE; we can handle a lot of the jobs other shops can't accommodate.
We are a CWB and "U" Stamp ASME Code Pressure Vessel Shop with a commitment to Quality and Excellence in the products we manufacture. We pride ourselves in providing our customers with a high level of product quality that exceeds the industry standard.
Cape is not engaged in the practice of engineering itself and all engineering work is outsourced to approved professional engineers
Nature of Business
Manufacturing and Fabrication