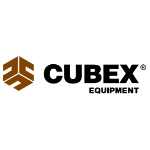 Cubex Limited
Cubex has been a major player in the construction sector and the mining and oil industry for nearly 48 years. Today we have thousands of satisfied customers and we offer more than 600 different types of equipment and machinery across Canada to meet all your needs.
Cubex has successfully grown its business by providing its customers with quality equipment and heavy machinery and innovative solutions. Our knowledgeable sales team is trained to make sure customers end up with the right equipment for their job. The value of Cubex is in the level of after-sale support provided to customers. Our qualified parts and service teams have a mission to maximize customer "up-time" by efficiently responding to any and all equipment issues.
We see our customers as partners and know that when they are successful, we to will succeed!
Nature of Business
Heavy Equipment