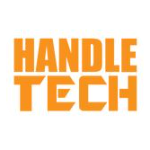 Handle Tech
Under new ownership since October 2019, Handle-Tech is part of a Pennsylvania-based family-run business dedicated to providing well-designed, high-quality tools and manufacturing parts to the world. Our customers' satisfaction and success is our top priority. We pride ourselves on responsiveness and making sure you have what you need to get every job done.
This ingenious tool makes picking up and carrying industrial pipes and hoses easier and safer.
Forget unwieldy pickups that strain both hands. Nix awkward dragging across the job site. Carry on with Handle-Tech to reduce injuries and speed up your work.
Nature of Business
Oilfield Equipment