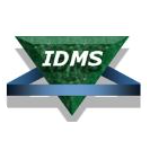 Industrial Diesel Manufacturing & Service
@industrialdieselmanufacturingandservice
Industrial Diesel Manufacturing & Service
IDMS consistently provides Quality Service Solutions to our industrial and oilfield service customers through prompt response and the application of time-proven products, designs, and technical support.
Serviceability is the driving force behind our new equipment designs as well as existing customer equipment retrofits. Keeping the customer in mind at all times is the business philosophy that keeps IDMS successful.
Industrial Diesel Manufacturing and Service offers Custom Power Units, including Diesel Engine Power Units, Diesel Engine driven Hydraulic Power Packs, Generator Sets as well as Pumping Equipment such as Water Blast Equipment, High Pressure Pumping Units, Well Service Fracturing Pump units and Manifold Trailers. Some of our other products are Custom Fabrication, Electronic Controls, Equipment Services including Refurbish and Retrofitting, and Pre-Owned Equipment.
Industrial Diesel Manufacturing and Service, Ltd. (IDMS) is a leading manufacturer of custom design, custom built industrial and oilfield well service equipment. IDMS specializes in diesel engine powered equipment and related service products. IDMS offers Diesel Engine Power Equipment, including Diesel Engine Hydraulic Power Pack Units (HPU), Industrial Power Units (Unitized Engine and Transmission Power Unit) Diesel Engine Generator Sets (Diesel Genset) as well as High Horsepower, High Pressure Pumping Equipment.
These units may be mounted on a Truck, Trailer, Open Skid or Enclosed Skid (Sound Attenuated)
Nature of Business
Engineering and Manufacturing