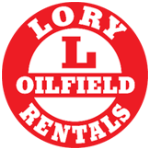 Lory Oilfield Rentals
Lory Oilfield Rentals is Alberta's most experienced oilfield rental company.
We have provided Alberta's oil and gas industry with excellent equipment and superior service for over 60 years. From drill pipe and tools to accumulators and catwalks, we have almost anything your project requires. We also have the resources to locate or research any equipment or product you may need. We truly are your one-stop company for all your oilfield equipment and drill pipe rentals.
While many of our competitors have come and gone, Lory Oilfield Rentals has remained strong since our inception in 1953. Our dedication to providing the highest quality, 24-hour service and competitive rental rates has given us many valuable customers.
Lory Oilfield Rentals is conveniently located in Nisku, Alberta, just outside of Edmonton. Our team of employees is committed to safety, quality, and above all, excellent customer service. Our entire price book, as well as comprehensive dimensional data, can be found online. Thanks for choosing Lory Oilfield Rentals.
Nature of Business
Oilfield Rental and Supply