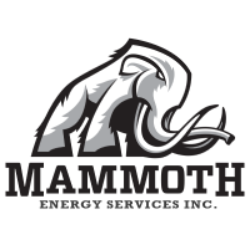 Mammoth Energy Services
Mammoth is an integrated, growth-oriented company serving both the electric utility and the oil and gas industries in North America and US territories. Mammoth's subsidiaries provide a diversified set of drilling and completion services to the exploration and production industry including, among others, pressure pumping, coil tubing, natural sand and proppant services as well as trucking, drilling, cementing, rentals and water transfer. In addition, Mammoth's infrastructure division provides transmission, distribution and logistics services to various public and private owned utilities throughout the US and Puerto Rico.
Our oil field services model is fully integrated to incorporate pressure pumping services,
natural sand proppant services as well as contract land and directional drilling.
- Hydraulic fracturing – 6 high-pressure fleets ~292,000hhp
- Northern white frac sand – 4.4 Mmtpa of sand processing capabilities with production costs of $11-$12/ton
- Last mile solutions including sand hauling trucks capable of moving all of the modern box systems as well as conventional pneumatic trailers
- Fully integrated cementing and acidizing offering
- Crude haling business active in several major basins
- Drilling rigs and directional drilling services
- Fully integrated rig moving business capable of moving two rigs at one time
- Flowback and coil offerings
Mammoth Energy Services is a growth-oriented company creating value for our customers by making smart investments, leveraging synergies to cross-sell services and executing at the highest level. Our entrepreneurial culture fosters strong management teams that work to grow wisely – keeping costs low and returns high.
Nature of Business
Integrated Service Company
Number of Employees
1,001-10,000