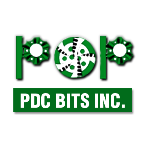 Pop PDC Bits Inc.
Pop PDC Bits supplies the global drilling markets with superior hybrid (steel and matrix) pdc drill bits as well as the industries top core bits. Incorporated in Calgary, Alberta in 2000, Pop Bits continues to set the standard when it comes to pdc drill bits and no erosion core bits.
Pop PDC Bits is proud to currently be producing our "Third Generation PDC Bits", a full line of motor compatible bits.
Pop utilizes ISO tested and certified HTSR steel. The products are manufactured utilizing CNC equipment and API / ISO certified gauges.
Manufacturing and repairing under one roof has given Pop the opportunity to compare materials, wear patterns and performance. Surrounded by and drawing source information from people with over 30 years experience in drilling has enabled Pop to design drilling products that perform at the highest level.Pop in house developed technology has improved the durability of the steel body Pop drilling products to a point where the steel body surpasses the matrix products.
Nature of Business
Drilling Products