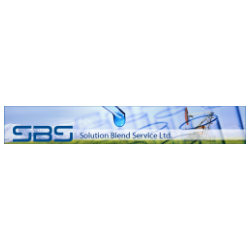 Solution Blend Services Ltd.
@SolutionBlendServicesLtd
Solution Blend Services Ltd.
Solution Blend Service Ltd. is an expanding chemical services company that provides services to various production chemical, drilling fluid and oilfield service companies. With over 30 years of combined experience, Solution Blend Service is committed to the confidentiality of our customers and is dedicated to the safe and efficient handling of your product.
It is the mission of Solution Blend Service to ensure our customers' success by providing a first class product in the field and on time.
Our Strengths
• Maintain and Ensure High Quality Products
• Effective and Experienced Management Team
• Closely Situated to Customers
• Proficient Warehouse Management and Delivery
• Compliance with Local Regulations
Nature of Business
Toll Blending, Chemicals, Distribution