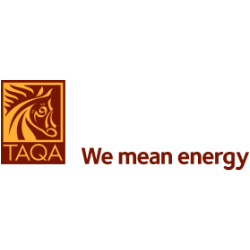 TAQA Global
TAQA, meaning energy in Arabic, is the brand name of Abu Dhabi National Energy Company PJSC. We are an international energy and water company listed in Abu Dhabi operating in 11 countries across four continents.
We strive to be safe and sustainable, and embrace the challenge of delivering affordable and reliable energy and water. We are proud to align our strategy with Abu Dhabi's Economic Vision 2030, a roadmap for a sustainable economy with a focus on knowledge-based industry.
Our interests lie in conventional and alternative power generation, water desalination, oil and gas exploration and production, pipelines and gas storage. We operate in Canada, Ghana, India, Iraq, Morocco, the Netherlands, Oman, Saudi Arabia, the United Arab Emirates, the United Kingdom and the United States.
Nature of Business
E&P (Exploration and Production)
Annual Revenue
More than $10B
Number of Employees
1,001-10,000