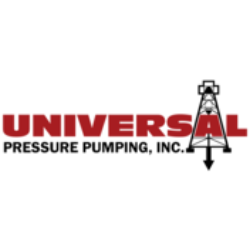 Universal Pressure Pumping
@universalpressurepumping
Universal Pressure Pumping
Universal provides unsurpassed pressure pumping, cementing, acidizing and reservoir enhancement services to the oil and gas industries.
Committed to the highest standards of safety, ethics, and innovation, we value our relationships with our customers and our communities and treat them as partners. Our dedicated workforce enables us to produce results by combining technical excellence with outstanding service.
From planning to execution, Universal Pressure Pumping coordinates state-of-the-art pressure-pumping equipment, horsepower and highly trained crews so you can get better production from every stage. While market conditions fuel the need for efficient processes to reach energy resources, we continue to leverage our pressure-pumping expertise to minimize completion days per well, reduce safety incidents and pump record stages per day.
We regard our customers as partners. Universal Pressure Pumping collaborates with you to engineer custom solutions integrating our state-of-the-art equipment, highly trained crews, innovative technology and supply chain management.
Nature of Business
Fracturing, Cementing, Acidizing